Top Tier Exclusive Private Client Defence Team
Many clients ask Holborn Adams -
"What is the highest level of service you can offer?"
The answer is -
Personal attention and representation by Adam Rasul, Holborn Adams Senior Partner, and Chris Daw QC, one of the country's leading specialist fraud and criminal barristers.
Adam Rasul and Chris Daw QC
Adam Rasul and Chris Daw QC have worked together, on difficult criminal and fraud cases, since 2004. Chris is a member of Serjeants' Inn Chambers in London and Lincoln House in Manchester. Adam worked at some of the most prominent law firms in the country, before founding Holborn Adams in 2013.
Chris and Adam are instructed continuously to defend clients pre-charge and if you face serious criminal investigation it is "not over" – a charge is by no means inevitable. This exclusive defence team will ensure that full pre-charge representations are made to seek to persuade the Crown Prosecution Service not to charge you, based on a detailed analysis of the law and the facts of the case, including evidence we may gather on your behalf. This involves a high level of expertise in police and prosecution procedures and in the law which applies to decisions as to whether to bring criminal charges under the Prosecution of Offences Act.
Chris and Adam are urgently instructed and regularly attend on clients in countries worldwide and are currently retained in Saudi Arabia, the United Arab Emirates, the United States, Australia and in various European jurisdictions.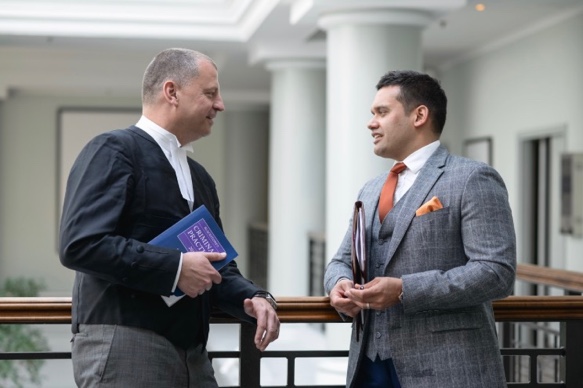 In recent times Chris Daw QC has represented clients in high profile cases, including the former England football captain, prominent businessmen and high level professionals in several fields. Adam has acted for world champions and international sportsmen, well known entertainers and Members of Parliament.
Needless to say their combined experience provides clients with the best possible defence, to tackle all eventualities.
Clients choosing the highest level of representation benefit from Chris and Adam's pro-active defence partnership, including unfettered direct access to them both by telephone and email, together with regular face to face meetings at any convenient location. This includes drawing on their joint expertise of representing high net worth clients, celebrities, public figures and professionals at the top of their respective fields.
What Makes our Service Unique?
Our highest level of service allows direct access to Queen's Counsel and the Senior Partner, ensuring that clients are supported through what is the most stressful time of their lives.
Access of this nature is unorthodox as most law firms will have a secretarial system, many lawyers are unavailable outside of office hours and QCs in particular can seem to live in an "ivory tower". This level of direct access continues from as soon as a top tier instruction is confirmed until it has been concluded in full, whether at the pre-charge stage or in any court proceedings which may follow.
This team has successfully tailored defence packages for clients facing or worried about serious criminal and fraud investigations, representing clients to ensure their interests are protected at all times. Whether defending in multi-million pound fraud investigations, or acting for clients accused of sexual or violent offences, Chris and Adam offer the reassurance of complete professionalism combined with an approachable and personal style.
What Results Can I Expect
Our ethos is "prevention is better than cure", engaging immediately in a pro-active defence process rather than simply waiting to see what happens and hoping for the best.
Chris and Adam react to any allegation or crisis with defence creativity to seek to ensure that clients are restored back to their lives and to avoid serious consequences and penalties, wherever possible.
Chris is renowned for his oversight, legal expertise and tactical instincts whilst Adam is relied upon for his incredible client care and ability to engage successfully with the police and prosecution authorities.
It is all too often that clients believe there is "nothing they can do" whilst on bail and following arrest. Both Chris and Adam continue to successfully engage to end serious investigations against clients, during their bail and investigation period, avoiding formal criminal proceedings altogether. Their niche expertise in pre-charge strategy has changed the lives of many clients, who might otherwise have faced prosecution, imprisonment and financial ruin.
Client Experience of Top Tier Representation by Chris Daw QC and Adam Rasul
Read the personal experience of a senior professional, for whom Chris and Adam acted successfully in a long-running and serious fraud investigation. Our client was not charged with any offence after active engagement with the prosecution and the submission of detailed written representations and evidence on his behalf.
Charge: Serious Fraud
Outcome: Client not charged - case closed
"I feel most fortunate to have been able to have Adam and Chris as my Solicitor and Counsel and could not have wished for a better team…I would request their services again without a moment's thought if I were to be in need again."
Download Full Case Study
The highest level of representation, involving the personal assistance of Chris Daw QC and Adam Rasul, is available to all clients with sufficient funding, not just to those in the public eye.
For those clients, with lower levels of available funding, there are several representation options which include day to day supervision by highly experienced Holborn Adams lawyers and more selective involvement by Adam and Chris.
Every Holborn Adams client is assured of a phenomenal level of service and client care from a legal team which is passionate about achieving results.
Please note client appointments must be made in advance, our address is for postal correspondence only. Many of our clients prefer to meet at their own homes or offices in order to preserve confidentiality. We can attend upon clients at their convenience nationwide.